When:
May 25, 2019 @ 4:00 pm
2019-05-25T16:00:00+05:30
2019-05-25T16:15:00+05:30
Where:
Vardhaman Pratishthan
Senapati Bapat Rd
Hanuman Nagar, Shivajinagar, RoadPune
Maharashtra 411016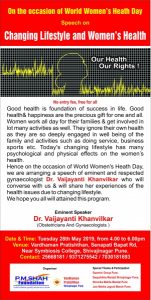 On the occasion of World Women's Heath Day Speech On Changing Lifestyle and Women's Health No entry fee, free for all Good health is the foundation of success in life. Good health& happiness are precious gifts for one and all. Women work all day for their families & get involved in a lot many activities as well. They ignore their own health as they are so deeply engaged in the wellbeing of the family and activities such as doing service, business sports, etc. Today's changing lifestyle has many psychological and physical effects on women's health. Hence on the occasion of World Women's Health Day, we are arranging a speech of eminent and respected gynecologist Dr. Vaijayanti Khanvilkar who will converse with us & will share her experiences of the health issues due to changing lifestyle. We hope you all will attend this program.
Eminent Speaker
Dr. Vaijayanti Khanvilkar
(Obstetricians And Gynaecologists )
Special Thanks & Participation: Swamini Group Pune, Deepshikha Mandal Shivajinagar Pune, Shravika Mahila Mandal Pune & Jain Mahila Jagruti Manch Pune.
Telephone : 25668181 / 9371275542 / 7030181693