When:
December 20, 2019 @ 10:56 am – December 21, 2019 @ 11:56 am
2019-12-20T10:56:00+05:30
2019-12-21T11:56:00+05:30
Where:
Law College Rd
Deccan Gymkhana, Pune
Maharashtra 411004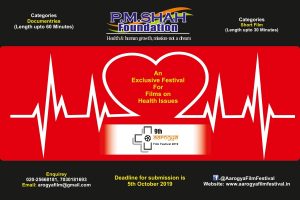 WELCOME TO THE 10th AAROGYA FILM FESTIVAL, PUNE
AN EXCLUSIVE FESTIVAL FOR FILMS ON HEALTH ISSUES
SUBMIT YOUR FICTION SHORT FILM AND DOCUMENTARY IN CATEGORIES –
Women health
Child Health
Mental Health
Current Health Issues
Health Rights
Youth Health
Social Health
Community Health Issues
Any Other Health-Related Subject
 Documentary Feature Film
Documentary feature with runtime <60 minutes in length.
Fiction Short Film
Fiction short film with runtime <30 minutes.
Entry Forms are available here:
http://aarogyafilmfestival.in/old/bsubmit-film.php
For More Information visit:–
http://aarogyafilmfestival.in/
Submit your entries Deadline for Submission is 5th October 2019.